11.28.2003
Santa Cannon
11.26.2003
As Long as We Got Each Other
I just got the Halloween photos from Jared in the mail, so I thought I'd finally post these bitches up here for your viewing pleasure. I created a little montage, and as the soundtrack, I've provided a link to everyone's favorite TV theme song. Please listen in while viewing. Try not to cry pansy, we all long for the misadventures of Kirk Cameron and his little friend Boner (which would have made a sweet halloween double-costume).
GrowingPainsTheme.wav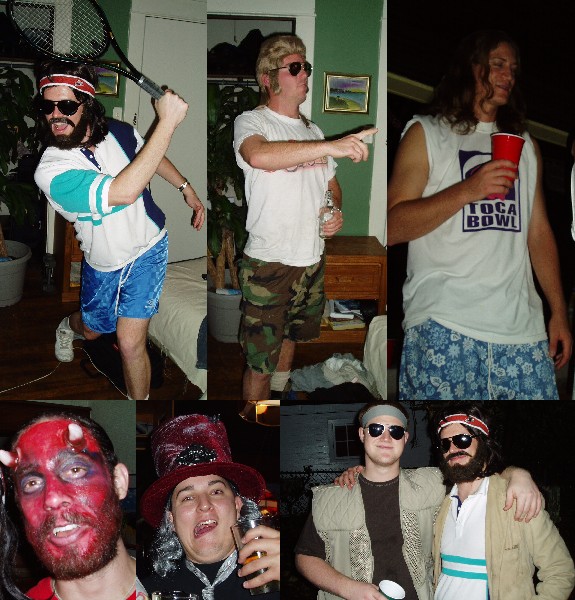 (Clockwise from top left: Me as The Baumer, Jared as Joe Dirt, Teddy as some kind of skeevy stoner / surfer brah, Nick as the Devil albeit a dirty-hippy devil, Scott as ??? - costume store leftovers?, McCoy as Walter "Who am I? I'm a veteren" Sobechek.)
|
Please!!!!!!!!!!!
11.25.2003
13 Unlucky Numbers
Mo' Lists
Lets Go Loosiers?
11.24.2003
Rolling Stone can Suck a Fuck
11.21.2003
KUNG FU AND GUNS
The World Is Going To End
Idoit Seeking Life of Loneliness
The Red Rocker Cometh
11.20.2003
How Wacko is Jacko? Who really nose
For all of you who may have forgotten about Bat Boy
11.19.2003
This Is Art
80's...check out my wears.
Yeah, you guys are cool. Psyeeeeeek!
11.18.2003
If You Pop Your Air Bubbles You Can Jump Higher
11.17.2003
Album Covers that Never Were
Word is Bond
11.15.2003
I Just Want Bang Bang Bang
11.14.2003
Gentlemen: Slap Your Ho's
Tom Donahue dies at 53
It's Our Top Ten Movies... Brah
Mess With Mr T's Milk and He'll Throw You Helluva Far
11.13.2003
Clark: "Andre 3000 & Big Boi Just Recorded Solo Albums"
Sign Language Finally Makes Sense!!!
11.12.2003
If It's Good Enough For Billy Dee, It's Good Enough For Me
President Sheen
11.11.2003
Darla! Have you seen my Miller?! Did you take my Miller?! Oh wait, there it is.
11.10.2003
Matrix: Revolutions
"All I want is pussy, give me some religion, a brand new cadallac and a winning lotto ticket"
11.07.2003
Everything Under the Sun is in Tune
Baby Ruth?
Hot dogs? You know what they make those things out of, huh Chet, huh? Lips and assholes!
11.06.2003
What the fuck?
This is Heavy
Emo...fuck it.
11.05.2003
Fear of a Blog Planet
Nam-ya-ho-rakey-akey-oh
11.04.2003
Str8 Ballin'
11.03.2003
Watch out Conan!
Emotion Lotion - what's your Potion?