12.30.2003
I'm luvin' the way it makes me smile when I have it my way on my break today
Drugs are bad, m'kay
12.29.2003
Jaded in January
12.25.2003
Merry Fuckin Xmas!
12.23.2003
Tha Dopest Gangsta Eva!
Snowflake to You: "Make Me Special"
12.22.2003
A Yule-Tide Drum Jam
Rollin' Spinnahs
12.18.2003
Sk8r Beats Down Four Jocks
I am the CLIT Commander!
11 Minute Mario Is a Farce!
12.16.2003
Let's Get the Rock Outta Here!
Grammys! Yeah!
12.12.2003
Take Me Away Some Other Land, Thank'ya
12.11.2003
Abercrombie & Bitch, Bitch, Bitch
Only in Places Top 5
12.10.2003
It's Not Fair, the Computer Cheats!
12.09.2003
Ah Ha, Hush That Fuss
12.08.2003
Shock'n Y'all
Jackson Loves Him Some Hobbit
12.05.2003
Ohhh yeah, I Love You Girl, Yeah, Ohhhh
All Bow Before the Mighty Boognish!
Future Lawyers of America...........are morons!
12.04.2003
Spin the Black Circle
In Honor of Jared
12.03.2003
Ho Ho Ho! We Won't Go!
12.02.2003
Dave Elsewhere of the Kollaboration Dance Team
Mofo beats Super Mario 3 in 11 minutes
12.01.2003
Top 100 of ALL TIME; Part 1
Mike's Big in '03 (TM)
I finally finished up my Top 10 CDs of the year, so here they are. Since I'm bored as shit, I thought I would write a little blurb for each one in hopes that some of you will go out and buy this shit. To make that easier, I've made recommendations based on what I think each one of you guys might dig.

10. Postal Service:Give Up
My guilty pleasure of the year. Yeah, I know Ben Gibbard's voice is more boy than man, and Jimmy Tamborello's electronics sound like cotton candy tastes, but I don't care. "The District Sleeps Along Tonight" goes down as the 2nd best song of the year in my book. The lyrics are generally horrid throughout the entire CD, but you can't deny the smooth electronic textures and genuine vocal melodies that this disc offers up.
WHO SHOULD BUY: Steve, Aaron

9. Ugly Cassanova: Sharpen Your Teeth
:
First of all, this album actually came out way back in 2002. Fuck it though, I didn't hear about it until this year and therefore I consider it's inclusion to be perfectly legal. This is a side project by Modest Mouse frontman Issac Brock. The story goes that a dude named Ugly Cassanova, who was a huge MM fan, snuck backstage, burst into their dressing room, threw down a notebook of poems and disappeared, never to be seen again. Issac Brock kept the poems and put them to music... really fucking good music. Alot like a Modest Mouse record, if you added a pinch of Primus and a smidge of Jim Croce.
WHO SHOULD BUY: Everyone

8. Outkast: Speakerboxx / The Love Below
I assume I don't need to do much explaining here. It's great to see hip-hop heading into expiremental territory. I originally planned to only give credit to Andre in this top ten, feeling that Big Boi's disc was a little to typical for hip-hop in this day and age (what with the rapped verses and chick-singer choruses ala Ja Rule). However, Big Boi's rhymes are far better than Andre's and deserve inclusion for that reason alone. Still, you can't deny Andre's musical genious and the sheer balls to go for such a radical departure. I'm still waiting for the day when Hip-hop artists stop putting all these space-wasting skits in the track sequence and concentrate on music. I still think this album would work better as a single disc. It is frustrating to me that these two couldn't work together to make their best album yet. That still belongs to Aquemini.
WHO SHOULD BUY: What, you don't have it yet? Come on, my stepmom wants it for Christmas. I'd hate for her to be cooler than you.

7. Metric: Old World Underground
The only female-fronted group to make my top ten this year (By the way Ian... what? No Tatu in the top 13? Bullshit!). This is exactly the kind of 3-chord robotic pop-punk that the Constantines aren't. Don't think Blink 182 however, the disc goes way beyond that bullshit. I can't help but love the Cars-style "You're all I've got Tonight"-style synth that's all over this disc. Vocalist / keyboard player Emily Haines is also in BSS too.
WHO SHOULD BUY: Aaron

6. The Shins: Chutes To Narrow
If I were doing a top ten overhyped bands of the year list these guys would be up there with White Stripes. However, while the album isn't perfect from front to back, it is a nice little 30-minute retro-rock affair. The opening track "Kissing the Lipless" is as infectious as they come, and hands down my favorite song of the year.
WHO SHOULD BUY: Grant

5. Bonnie 'Prince' Billy: Master & Everyone
Will Oldham is a badass. This is the album for Zoloft users who are short on supply and need something to hold them over. Slowwwwww tunes, all acoustic, depressing as hell and completely brilliant. A lot like the Iron & Wine's debut from last year, just great acoustic stuff. Worthy of #5 for it's enjoyment from front to back, or on random.
WHO SHOULD BUY: Hard to Say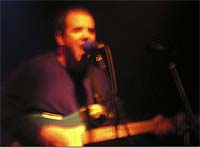 4. The Wrens: The Meadowlands
Not sure how to catagorize this one. I guess I would call it indie-rock that doesn't give a shit about being indie-rock. These guys hadn't put out an album in at least six years and came back with this gem that deserves #1 as much as any other on this list. Not a bad song on the album.
WHO SHOULD BUY: Grant, Steve

3. The Constantines: Shine a Light
Like BSS and Metric, the Constantines also hail from Toronto. I wrote about these guys on the blog a few weeks back when they were here in Bloomington playing a show. These dudes are Eddie Murphy raw; the kind of band that wants to rip a limb off of the listener's body and beat them over the head with it. They've been called post-punk, which I suppose is fair, but doesn't hint at how intelligent this band really is. Gone is the robotic 1/8 note feel and three chord ball and chain, in favor of unexpected chord changes and choppy rock beats that use as much or as little of the drum kit as necessary. Bonus: the lead singer sounds like a combonation of Springsteen and Lemmy Kilmster from Motorhead.
WHO SHOULD BUY: Grant, Aaron, Ian

2. My Morning Jacket: It Still Moves
Perhaps I'm being a bit premature giving this disc the #2 spot on my list, seeing as how it just snuck onto my radar last week. However, of all CDs I picked up this year (with the exception of #5) this is the only CD I wanted to listen to again as soon as I was done with it the first time through. I don't know if anyone saw these guys on Conan last summer, but they tore the place apart. Imagine if the Allmans had recorded more acoustic tunes, but implemented a touch of Black Sabbath riff-ology. Now take that sound, mix in a vocalist that sounds like Jackson Browne, a little Sigur Ros atmosphere, and a shitload of reverb and you've got a great album, and some of the most inventive 3-chord rock in a long time. My favorite part is how almost every track on the disc goes for a Hey Jude ending. Mmmm, Delicious.
WHO SHOULD BUY: Jared, Aaron
1. Broken Social Scene: You Forgot it In People
Since 1997 there has been incessant talk about who would put out the next Ok Computer. Ok Compuer, for the most part, is a totally badass album, but I really wish critics would stop looking for the next OK Computer and just concentrate on the next great album of our time. This disc (along with Sea Change IMO) has come as close as any other this century. Not only was it the best CD I bought this year, but also hands-down the best live act I've seen in recent memory. This band is huge, and the live show featured 11 or so interchanging members and at least 3 lead vocalists. Horns, piano, 3-4 guitar players, agressive drumming, and subtle harmony. This disc may not have seen a lot of press, but when critics look back in 10 years, I think this one will hold true as one of the decade's best.
WHO SHOULD BUY: Everyone
|