1.30.2004
Smoking Ban Redux
[I'm sorry, this was just too long to post in the comments section]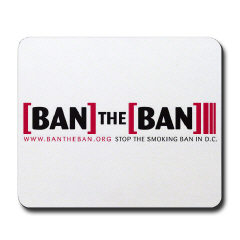 It's unbelievable how far off base this debate usually becomes. Smokers rights' versus non-smokers' rights? No, it's about
property rights
.
Look, for any rule (public health regulation, gun ownership, etc.) you can
ex post
tailor said rule such that welfare for any group (say the City of Bloomington) is increased. But people tend to be very myopic in their application and assume they can create this outcome
ex ante
. The problem is, while one can create general guidelines for how people respond to incentives, there is what economists call
The Law of Unintended Consequences
. People react in varied ways when you change the rules of the game.
Thus the undying allegiance to markets. Because no single person or section of people can accurately manage or predict people's behaviors (adding one rule on top of another), the
University of Chicago economists
realized that people left to their own devices (I won't bother qualifying that here) will create the best end result, maximizing welfare under voluntary transactions.
For instance, financial economists had for a while assumed that people have risk homeostasis when it comes to investing -- that if they invest in some junk bonds they'll want to also invest in some money market funds or cash. The same in reverse is also true: if investors were given reasonable assurance that they're portfolio was highly unlikely to decline in value, they would balance with some riskier investments. Psychologists soon realized that
this behavior trait
carried over to other things, including driving. While the degree is different among persons, researchers started to notice that when people who didn't normally wear they're seatbelt were compelled to do so, they also tended to drive faster and use less caution. Now, whether they fully cancelled out the safety premium provided by a seat belt, is irrelevant and moreover is different for different people.
The point is that broadly applied rules that interrupt the free choices of individuals almost always disturb a potential efficiency and will create actions that are invariably unforseen. I know, driving presents a clear, mostly unavoidable risk for other people, so we have safety rules. Without getting into the provision of private roads, I agree.
But with smoking, punitive taxes and a strict citywide smoking ban in New York City only marginally reduced the number of smokers, but did create a substantial black market which included significant violence as a side effect. It even created a demand for unregulated, under the radar "clubs" and restaurants. One could argue that the overall social welfare gains from the policy outweigh any
negative effects
. Maybe. But the problem is that these costs and benefits are not distributed evenly – maybe they shouldn't be equally distributed to be fair. More to the point, the effects are not distributed voluntarily. Under a market system, people take on their own behaviors, and the costs and benefits accrue to them voluntarily, without coercion.
It turns out, that a system that respects ownership (of self and property) is the most conducive to maximizing welfare for all people. In the case of a smoking ban, it's possible that the ban will positively affect the market in Bloomington, such that total restaurant/bar revenues actually increase. But the point is that you've undermined the only foolproof way to regularly create efficient transactions and you also don't know what the unintended consequences are.
To say that a non-smoker is somehow compelled to enter a smoky bar just baffles me. "A person has to eat, right?" Well, yes, but a person doesn't have to eat at my smoky bar – I'm not denying them access to food consumption. "Well, smoke is denying me access to my favorite bar?" Why is it your favorite bar, then? When a person transacts with a person/business, they do so with the entire person/business. I cannot enter a restaurant and say "I really like your restaurant, but this decor is tacky and offensive; I want to pass a law that makes you change it." I take their options as a whole, and certainly I express my preference for changes, like when the music is too loud, but I don't have any moral legitimacy in legislating it.
Well, you say, "bad decor isn't harmful to one's health." Well then replace the word "decor" with "fatty food." Well, "smoking doesn't only harm yourself, it harms those around you." Well now you've just got me on entrapment. You voluntarily put yourself in harm's way, and now are accusing the bar owner of harming you. Whether second-hand smoke is really bad for you (I won't argue that it isn't, but only point out that one of the most cited studies saying it is was
laughed out of court
) is simply a non-starter because you are not coercively placed in its path – you may require food and/or a drink, but you do NOT require food/drink at that specific establishment. What if once a week someone gets jabbed in the eye by people improperly holding a pool cue? Should we ban billiards if the net benefits to people's eyes outweighs the costs in pleasure to pool players? What about people who spill beer on my shoes? I realize this is a
reductio ad absurdum
argument, but it parallels the scenario wherein people voluntarily undertake some set of circumstances (all actions have some level of risk) and then want others to bear the costs of your preferences.
Moreover, the beauty of the market is options. It's been a while since I've been to B-town, but most places I go to have many
voluntarily smoke-free establishments
. Some people who make the calculus of desired cuisine, atmosphere, price, and their clothes smelling like smoke decide to dine smoke-free, and there will always be those people. Thus, the market allows entrepreneurs to make money off them. Others don't mind so much so they choose the smoky bar.
I guess I've gone on long enough. I'll end by saying the rules change when you start to talk about children. Why are kids in bars? I don't know.
Next I'll tackle why the Do-Not-Call list is a bad idea and why I like Justin Timberlake.
|
I'll have what he's having
Why does the world need this?
Mr. Moonves's Gordian Knot
I Get Great Reception On This Hand
1.29.2004
On the Invitation of Femininity
1.28.2004
Recruiting New Peeps
Be stiff! My penis be stiff!
CBS puts a lid on free speech
1.27.2004
Hicks Files Post Complaint
You wanna step to this....bitch?
Honestly Pissed for Pitino
Gigawatts Oscar Pick 'em
1.26.2004
"Wow, now that was a gigantic piece of shit" pt. 2
1.25.2004
Souper Bowel
1.23.2004
Listen all y'all this is sabotage
1.22.2004
Get into the zone
1.21.2004
You can only hope to contain them
Beyond the Cellar Door
1.19.2004
Weekend in Chicago
1.16.2004
What passes for news these days
M83-DOS
1.15.2004
Maaaar ar ar
1.14.2004
We Goin' Mars
1.13.2004
Comments Once More
1.12.2004
New York / GLOBALfest
1.10.2004
IUPUI Ain't Fuckin' 'Round!
1.09.2004
Rush Limbaugh...fuckass.
1.08.2004
"Wow, now that was a gigantic piece of shit"
Here's another one...
1.07.2004
Drunky McGee
Discussion
1.06.2004
New Year's Eve 2003
I Know, I Know....
1.05.2004
New York, NY It's a Helleva Town
1.02.2004
New In the '04