6.29.2006
Confessions of a Trivial Mind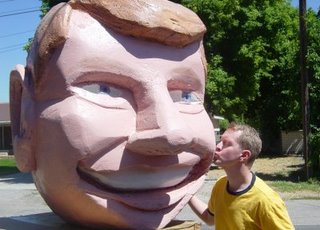 It's taken the blogosphere by storm, but if you haven't seen it, Ken Jennings (yah, the Jeopardy! player extraordinaire) has started
a blog
. I guess it's no big surprise, but he's incredibly clever and self-aware. As much as I love Jeopardy!, I never joined the cult of Ken because, you see, on the Left Coast the show plays at the wholly inappropriate time of 4:00pm -- don't people have jobs (Parker-Renga's excluded, of course)? So I never really got the chance to
know
Ken the way others did, to become familiar with his only slightly awkward but totally peculiar, understated humor.
As an entree to the Jennings feast, there's
this pos
t and picture.
Unrelated: I feel like the possible killing off of Harry Potter is primed to be some landmark cultural event (where were you when charming British wizard died in questionable magic wand accident?). So, I almost feel compelled to read one of the books (or atleast see the third movie, where that chick starts to become hot) lest I be relegated to pop culture non-entity status.
|
6.23.2006
"Radiohead has much in common with the Grateful Dead"
6.19.2006
Haha Funnies
6.14.2006
Getting my own place
6.11.2006
Once Again The First to Go