9.28.2006
What does the Street have to say about midterm elections?
9.26.2006
Reductio creep
9.25.2006
Computers taught to sort opinion from fact
My Name is Mr. Nice
One 'Giant Steps' For Mankind
9.20.2006
God's Morality Play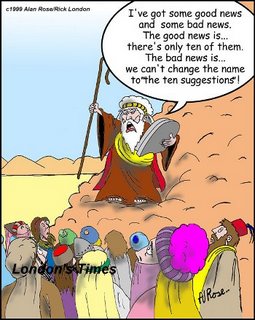 For a few weeks I've been trying to keep up on
Slate
's Blogging the Bible, written by deputy editor David Plotz. From his
introduction to the series
(also hear him talking about the project
here
):
I have always been a proud Jew, but never a terribly observant one. Several weeks ago, I made a rare visit to synagogue for a cousin's bat mitzvah and, as usual, found myself confused (and bored) by a Hebrew service I couldn't understand. During the second hour of what would be a ceremony of NFL-game-plus-overtime-length, I picked up the Torah in the pew-back, opened it at random, and started reading (the English translation, that is)
....
So, what will happen if I approach my Bible empty, unmediated by teachers or rabbis or parents? What will delight and horrify me? How will the Bible relate to the religion I practice, and the lessons I thought I learned in synagogue and Hebrew School?
....
I'll spend the next few weeks (or months) finding out. I'll begin with "in the beginning" and see how far I get.
So far he's gotten up through
Deuteronomy
. The best part is how conversational and literal the descriptions are. We find out how impetuous and insecure God is, and how sensible and stereotypical Moses is ("Oy vey! Again with the tribes and the non-stop kvetching!"). It's a very entertaining read, and lends itself well to intermittent or selective browsing -- create your own
Now! That's What I Call Pentateuch!
I had for several semesters tried unsuccessfully tried to get into the "
Bible As Literature
" course at ASU. It always seemed like an interesting story, and as the instructor points out on the first day, the tools of literary analysis which we are familiar with using on any other story, also apply to the Holy Word.
If you're looking for a place to start, you may jump into my favorite,
Numbers
:
Another Monty Python-style episode: If a husband suspects his wife of adultery, he takes her to the Tabernacle. A priest casts a magic spell upon holy water, then makes her drink it. If nothing happens to her when she drinks, she's innocent. But if her belly "distend[s] and her thigh shall sag," she's an adulteress.
...
The Lord's abhorrence of body hair continues. In Leviticus he praised bald men and ordered healed lepers to depilate. Now he mandates that Levites purify themselves by shaving off all their body hair. (And on the eighth day, the Lord created the Abercrombie & Fitch catalog.)
...
the Israelites set off toward the promised land. Which means, of course, that they immediately start to gripe. They've only been marching three days and they're already "complaining bitterly."
...
like a very mean babysitter, God does the old, "You want chocolate, I'll give you so much chocolate you'll puke" trick. "The Lord will give you meat and you shall eat. You shall eat not one day, not two, not even five days or ten or twenty, but a whole month, until it comes out of your nostrils and becomes loathsome for you."

|
9.19.2006
Talkin' Bout My Institution
9.14.2006
Re-Wired
Re-Wired
9.13.2006
Mr. Anti-Establishment
Imagining the Universe
Living on a Prayer (if not a wage)
9.09.2006
Episode Four: In which Satya returns home to find his house empty, but for the smell of smoked ribs.